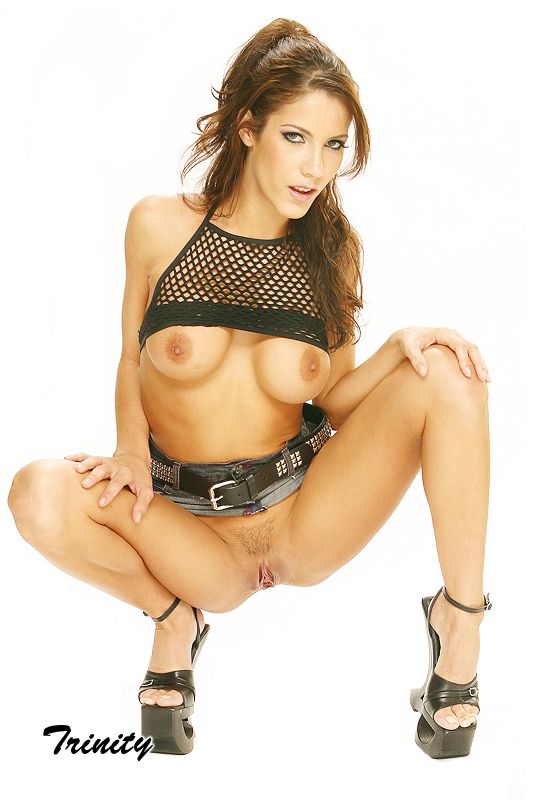 Pornstar Trinity's Profile with Stats, Bio, Pics and Movies.
About Me
Trinity was initiated into the porn industry via a local radio contest that was sponsored by a popular radio station and an adult store in Dallas. The event was called "Who Wants To Be A Pornstar?", and was hosted by industry icon, Ron Jeremy. From there she went on to appear in Howard Stern's yearly Vegas broadcast in their segment "Who Wants To Date A Pornstar?".A few scenes later, she lands in the lap of Pleasure Productions who eagerly signs her to a contract.
Trinity is our "Anal Queen", however she also admits to enjoying reverse cowgirl, which is one of her favorite positions. Her sexual fantasy includes having sex in the bathroom at a restaurant. She does not discriminate between men and women, loving to have sex with both. However, she likes to control women and be submissive with men. SHE LOVES WHEN MEN TALK DIRTY DURING SEX!
You can meet this sexual Darlin' at trade shows and other nationwide appearances for Pleasure Productions. Fans can expect lots of dirty fun from this sexual dynamo.
c/o Pleasure Productions
My Stats
Gender : Female
Date of Birth: 10-Sep-81
Ethnicity:
Hair color: Brunette
Eye color: Hazel
Height: 5 ft 3 in
(160 cm)
Weight: 105lb (48kg)